Welcome to Alonissos
You don't have enough time to explore the wholeness of this small majestic island. It could be just one more stop on your cruise, (there are incredible day-cruises in unbelievable prices). But, if you wish to have a journey through time, all you have to do is visit the old village of Alonnisos. It is called Ηora.
Ηora is the main village and usually is strategically located on a high point of the island. Every Greek island has its own picturesque and charming Hora and it is reasonable to wonder what is so special about the Ηora of Alonnisos. Meanwhile, our journey has just begun.
You have just arrived at the port of Alonissos
You noticed a group of people that consists of both locals and tourists. They are gathered and are waiting for something. Stay with them and when an old bus will arrive you should jump into it without a second thought. Neither are there many buses, nor a lot of destinations. It will not last long. Just a few minutes. Enjoy the ride.
You have just arrived at the Hora of Alonissos
The bus will stop at a square with a huge plane tree in the center. Normally you would love to stop and feel in your skin the shade of the old tree. But now an uphill paved path is appealing you to follow it. It is revealed in a seducing way. On the way up to the highest point, you will find little-crowded squares, old paleochristian churches, stone houses with impressive bougainvilleas and breathtaking views of the sea. The main path will be crossed by even narrower paths. You will find shops with local products and artworks. You will watch women chatting from their doorsteps. You will not meet cars. If you are lucky enough, you will meet a donkey.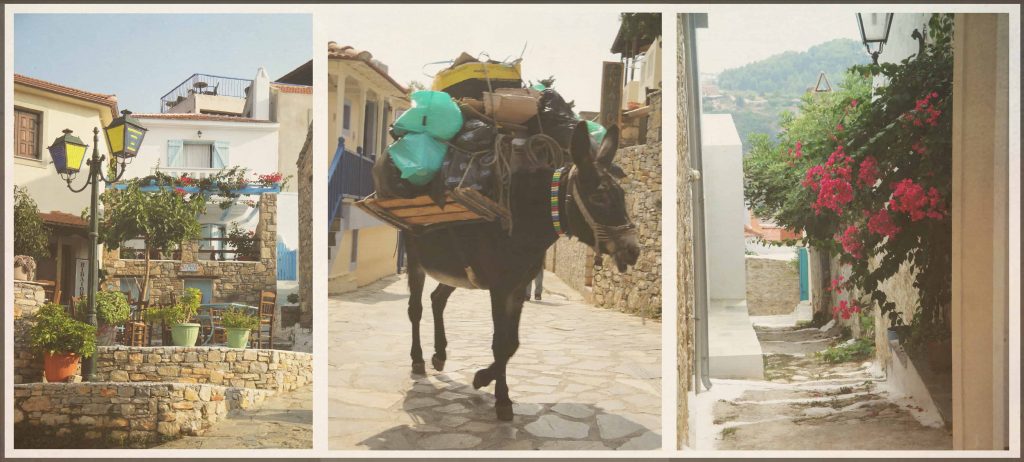 It seems like time is stuck in another era…
Maybe it is stuck in 1965 when an earthquake was the reason for the abandonment of the village. Later, German and English travelers fell in love with the old ghost village and decided to regenerate it. They bought the old damaged buildings and renovated them. They respected the traditional architecture of the island. In other words, we could say that they respected the history and the heritage of Alonnisos, too. You can easily recognize that you are at a place that is loved.
You have just arrived at the end of the path
And now what? You can feel satisfied because of your achievement. But it is not only this.
The way up was a kind of ritual. Wandering along Hora means discovering the periods and the layers of Alonnisos. It is your own Ithaca of Cavafy. It was more important than reaching the highest point.
Hope the voyage is a long one and you will find your personal Cyclops, Phoenicians and Egyptians.
Hope the voyage is a long one and full of adventure and you will smell the sensual perfume of every kind.
Voyage is more important than the destination