Wonderful Skiathos
Sκiathos island! The most famous one in the cluster of Sporades.  It is called "the island of Papadiamantis" as a tribute to the famous Greek writer who was born and lived his life on the island of Skiathos. You can even find his house remaining as it was back then in the city center. Nevertheless, the magic of Skiathos is far exceeding his historical figure. Perfect blue waters, astonishing beaches, parties, sunsets, and all kinds of experiences are waiting. 
First encounters
While in the main part of the island, you can find the old Venetian fortress that nowadays hosts the Nautical Museum. Besides, you can easily visit the medieval monasteries of Skiathos for a strong experience.

But I shall remind you now that you are on an island. Therefore, instead of just visiting the mainland is wiser to discover it all around. 
Just hop off to the truly magical experience that Skiathos has to offer!

Although being on an island for vacations is great, it is different from the city and you can't just visit every corner of it. Especially if you are a beginner at island hopping. But, my friend, you have nothing to worry about as we are here to help you achieve exactly that.
Proper exploration in Skiathos
Firstly, being there, it means that you can discover lots of beaches and every part of the island. Secondly, with hopwave, you can even explore other beautiful islands around and amazing remote beaches. All in less than a day!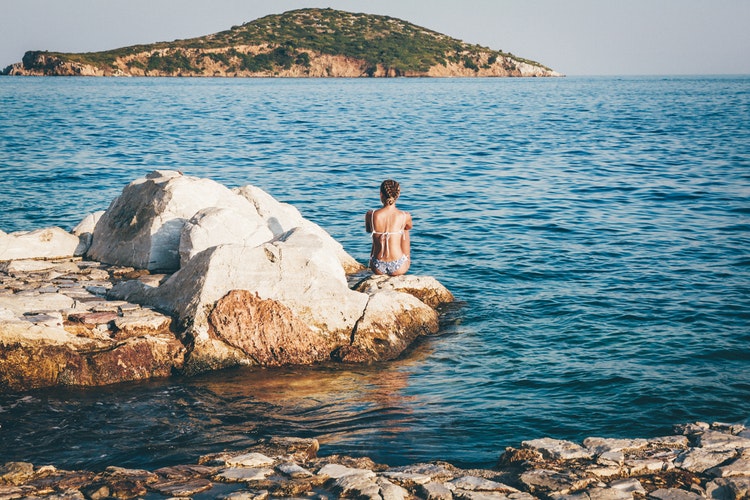 Some of the most famous ones are Koukounaries and Lalaria. Koukounaries is a part of the island that took its name from pine trees existing all over the area. The majestic beach you will find there is called Xrisi Ammos (Golden beach) because the sand is truly glowing like gold. Being there, dare to test yourself a little bit more by trying some water sports, extreme and not only.

On the other hand, Lalaria beach is the other way around.  You can reach it, by small boats existing in the old port of the island. Lalaria beach has not consisted of sand but from rocks and pebbles. The main rock has a path that looks like an arch, reminding you of a fairytale. Adding the clear blue waters, the scenery becomes fully romantic and of course…Instagram friendly!
Other beaches you shall see
Vasilias (king), which is a Blue Flag awarded sandy beach, easily accessible by urban buses. Moreover, Achladies that is very near to the mainland of the island, perfect for water sports fans and a windsurfing experience. Kolios, for all those who like fancy and chilling island experiences.
You gotta catch them all!  
So my friend, are you still waiting? Hop off to the most unique experience of your vacations and explore the magic of Greece!